Seminar "Art as System and Process" at the University of Applied Arts Vienna.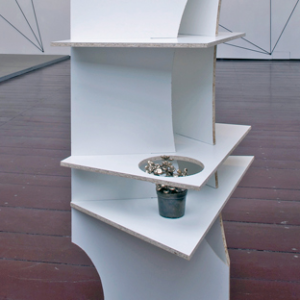 An einer der großen Achsen, 2009, Installation view at Augarten Contemporary, Belvedere, Vienna ...
Anna Zwingl lives and works in Vienna. After studying Fine Arts in London and Copenhagen, she graduated from the Academy of Fine Arts Vienna in 2009.
The interest of Anna Zwingl in her work invokes the relationship of construction, its inherent structure and the conditions leading to its form. Such as social, economic, cultural, historical or aesthetic implications. How can an object, a group of objects, their interconnectedness in space and the references that are created between them – become atmospherically visible, the imprints and stories of today, translated into a sculptural language.